This post is largely me poking at something I noticed in re-watching some beloved source material.
Exhibit A:
[image credit: nooneiseversafe.tumblr.com]
Cameron: But she's not life, she's just a body, bones and meat. [Sarah glares at her] Was that bad to say?
Exhibit B:
[image credit: blackradar.tumblr.com]
John Watson: You said that the victims all took the poison themselves…that he makes them take it. Well, maybe he, I dunno, talks to them…Maybe he used the death of her daughter somehow?
Sherlock Holmes: That was ages ago, why would she still be upset? [The room falls silent. Beat.] Not good?
John Watson: Bit not good, yeah.
Exhibit C: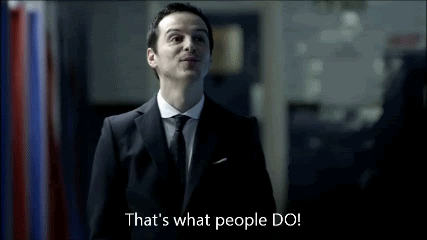 [image credit: samasever.tumblr.com]
Sherlock Holmes: People have died.
Jim Moriarty: That's what people do!
Cameron and Sherlock's arcs are in some ways similar: Cameron spends the two seasons (*sob*) of The Sarah Connor Chronicles as a machine cybernetic organism learning to be human; Sherlock spends the two episodes of season one (I do not admit the existence of "The Blind Banker" for reasons of stomach-turning racism) as a (self-diagnosed?) high-functioning sociopath learning to be, in Lestrade's words, a good man.
Both of them have examples of what they will be if they don't learn in front of them: Cameron in her own behavior when her chip is damaged & in every other Terminator who's hunting the Connors; Sherlock in Moriarty, the consulting criminal.
For writers, a quick way of demonstrating that a character is "wrong," is "not like us," is to have him or her display ignorance that the human body is more than the physical object, that has meaning and power in more than its physical shape. The characters who are redeemable have to have someone teach them that this is unacceptable, and they have to acknowledge that they are being educated (even if it is in the hostile model of Sarah Connor's education); if/when a character rejects this education, they become even more othered. Less human.
This isn't anything like a complete theory of character, to be sure. There are a lot of ways of doing this, and I'm sure there are counter-examples of the body being stripped of its metaphysical meaning and power. But I think there's something there.
Somebody's going to make the advert campaign for Amelia Pond's fragrance, right? Right?